Paying attention to the details
The Washington Post has a great parenting section called On Parenting and I get their weekly emails on Tuesdays and Fridays. I recommend signing up for their newsletter which they describe as "conversations about parenting's challenges, delights and shared experiences."
The article that landed in my inbox yesterday cautions parents against buying knock off car seats, stating there has been a drastic increase in the number of "untested, uncertified car seats for sale online, and they're putting children at risk." As someone who shops almost exclusively online, this article felt important enough to share. I have purchased many car seats in the last four years between multiple children and multiple cars needing them. Although I have bought different brands and types for different reasons, one thing is the same; I have bought them all online.
The article gives the following information for those of us who do our car seat shopping online:
If you're buying online, ask the following questions:
Does the manufacturer have a website you can find easily?
Is the car seat on the American Academy of Pediatrics list? It lists only seats that meet federal motor vehicle safety standards and are approved for use in the United States.
Does the deal seem too good to be true? If so, there's a good chance you're looking at a knockoff.
Is it being sold directly by a trusted retailer? Stores such as Target, Buy Buy Baby and Nordstrom sell only certified seats directly from the manufacturer. With other online sites, such as Amazon and Walmart, be absolutely sure the seller is not a third party and the seats are being sold directly by the manufacturer or the site itself.
If you already have the car seat or booster, ask yourself the following:
Is there a label with this required wording? "The child restraint system conforms to all applicable federal motor vehicle safety standards."
Is the brand stamped on the seat itself? Most knockoffs don't use the genuine brand name. Some don't include any brand at all.
Did it come with clear instructions?
Is there a model number, customer service number and manufacture date printed on it?
Did it come with a registration card to send back to the manufacturer? All car seats sold in the United States are required to come with one so the manufacturer can contact you in case of recall.
Are there clear labels on the seat that indicate its use and correct installation?
Given that I just spent time putting away clothes that no longer fit my kids, it occurred to me that I also needed to possibly adjust their car seats to match their new heights. It also was a good time to reinstall each seat (and vacuum up the stale Pirate's Booty and Goldfish that the dog had yet to find).
Ditch The Winter Coat
While I am on my car seat soap box, with the colder weather comes the dreaded jacket debacle. Children are not supposed to wear thick coats in their car seats. I have been guilty of this in the past, but after watching this video that Today posted from 2015, I will certainly be adhering to this going forward. The Car Seat Lady has some good ideas for jacket options, dressing kids in layers, and using a blanket in the car to cover them up!
Things To Remember
Through all of this research, I just learned that the chest clip is supposed to be at a child's armpit. According to Consumer Reports, the proper placement helps the shoulder straps stay in place. If the clip is too high, the neck is at risk for injury and too low, the abdomen is at risk. Armpit level it is!
Lastly, I can never remember the proper shoulder strap height, although I am sure it is posted right on the car seats. Nonetheless, here it is again. Whenever I had to memorize things in high school, I always used some kind of memory aid/mnemonic device. Just connected that REAR-facing is at or BELOW and forward-facing is at or above. Thanks to Lil John, rear reminds me of booty which is below – get low, get low, get low.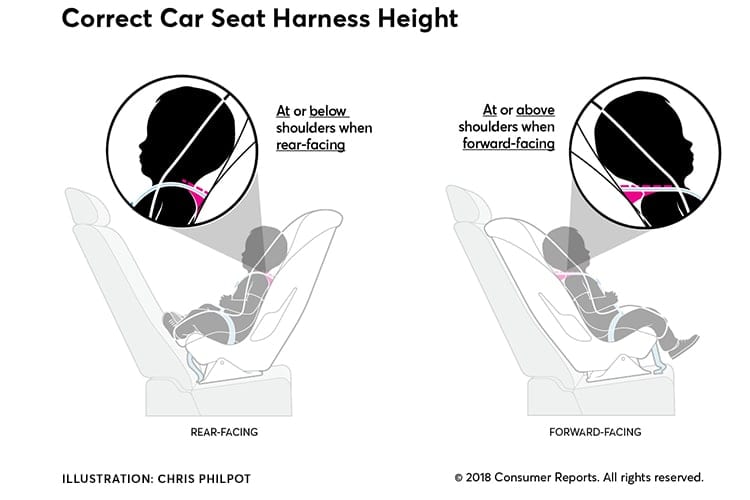 I wanted to share this because 1. Keeping kids safe is our number one priority and 2. I almost lost my marbles last night with Keener so I felt far from qualified today to be offering ideas on helping kids and parents remain calm. Perhaps he was just doing me a favor to give me more to think and write about 🙂
On second thought, I just couldn't stay away from sharing some language tips this week. See my post about asking kids questions to get your weekly language dose!